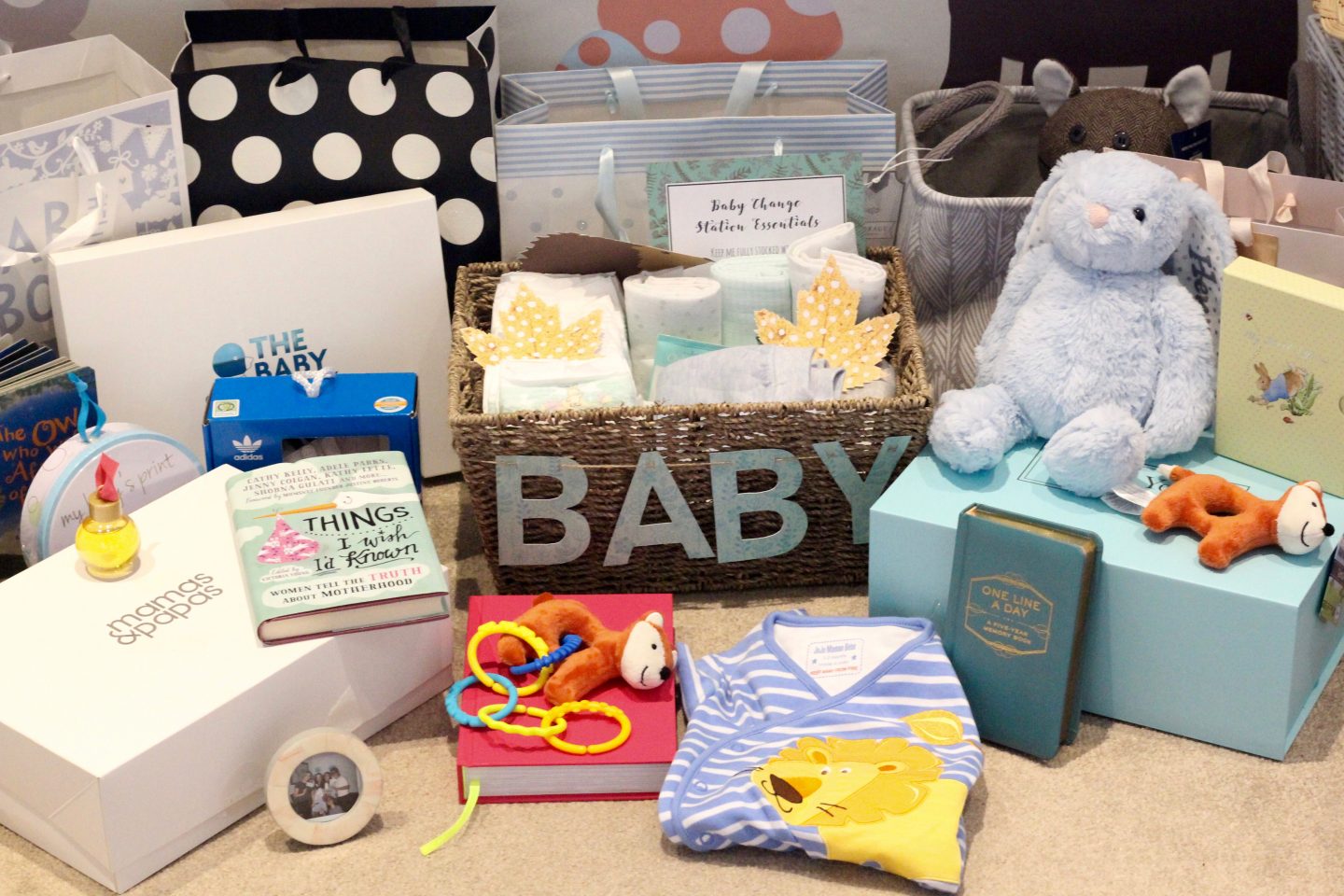 Hello! So just in case you need some inspiration for baby shower games and/or gift ideas I thought I'd show you what we got up to at my amazing baby shower the other week! My sister and my bridesmaids (I got married last year!) organised the entire event and I really did have such a lovely afternoon with my girlfriends. 🙂
In the video and blog post below I talk you through how the day unfolded, the decorations, the food and cake, the games that we played and finally the incredible gifts that I received; I really did feel so spoilt!
Have you had your baby shower yet?!
I would love to hear if you played any other games and the gifts that you were given!
Baby Shower Decorations
My sister sourced all of the blue and gold baby shower decorations from Ginger Ray; they looked stunning and she used a mixture of a Gold 'Baby Shower' foiled sign, blue tissue paper pompoms, a tassel garland, 'About to Pop' confetti balloons as well as foiled pin wheel fan decorations all around my house.
I knew in advance the date of my baby shower but I didn't know ANY details; I was told that I had to be ready for 12pm (on the dot!) at which time my husband took me out for a delicious lunch (with cocktail!). We returned home at 2pm to our gorgeously decorated house filled with delicious food (served on 'Oh Baby' gold paper plates!), an amazing carrot cake decorated in a woodland theme (as shown in the video above) and of course my amazing girlfriends. They even gave me a "Mummy to Be" Ginger Ray sash to wear!
I was 36.5 weeks pregnant at the time of my baby shower and I knew that this would be the last time that I would be seeing everyone altogether before the arrival of baby LR! It really was such a lovely occasion!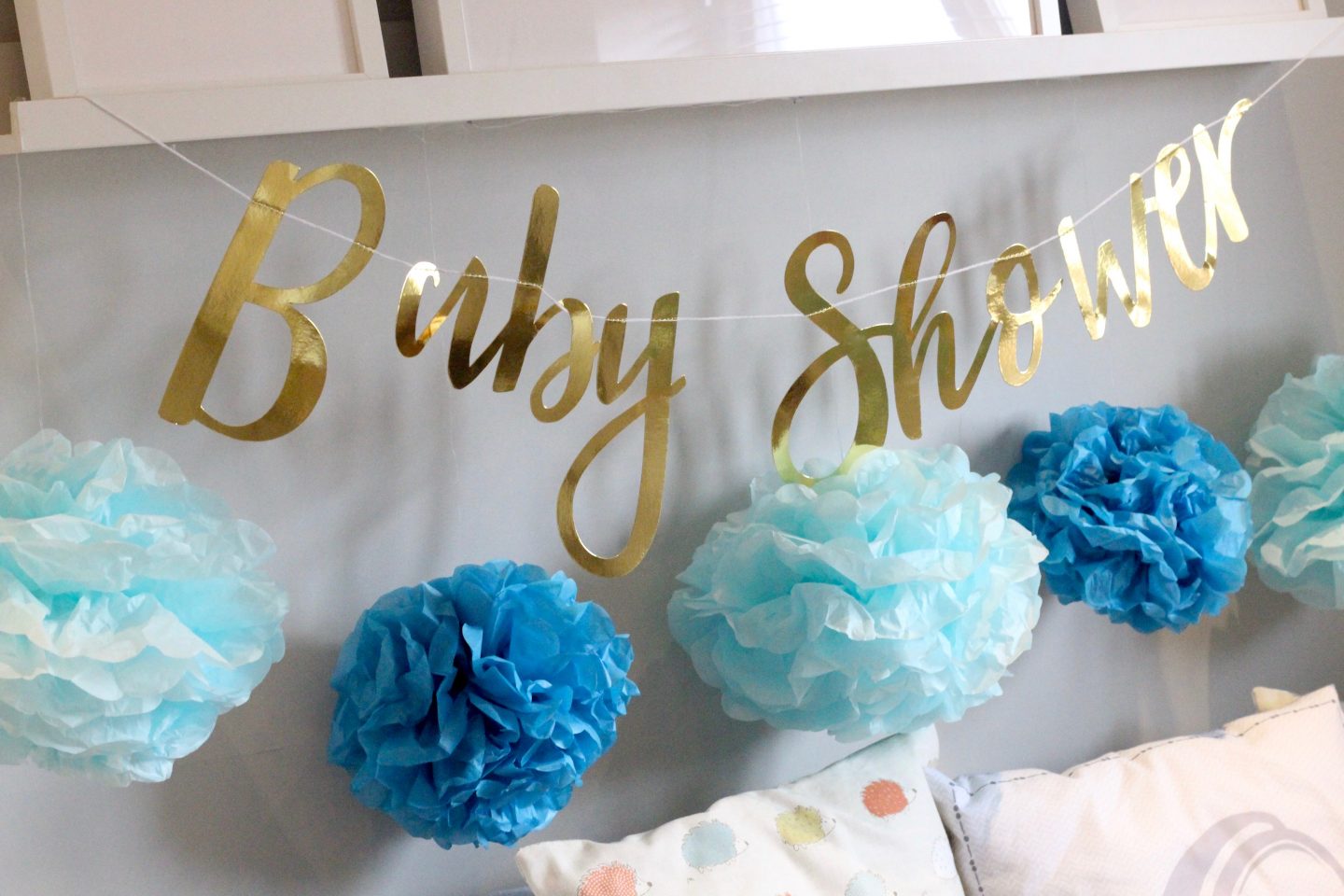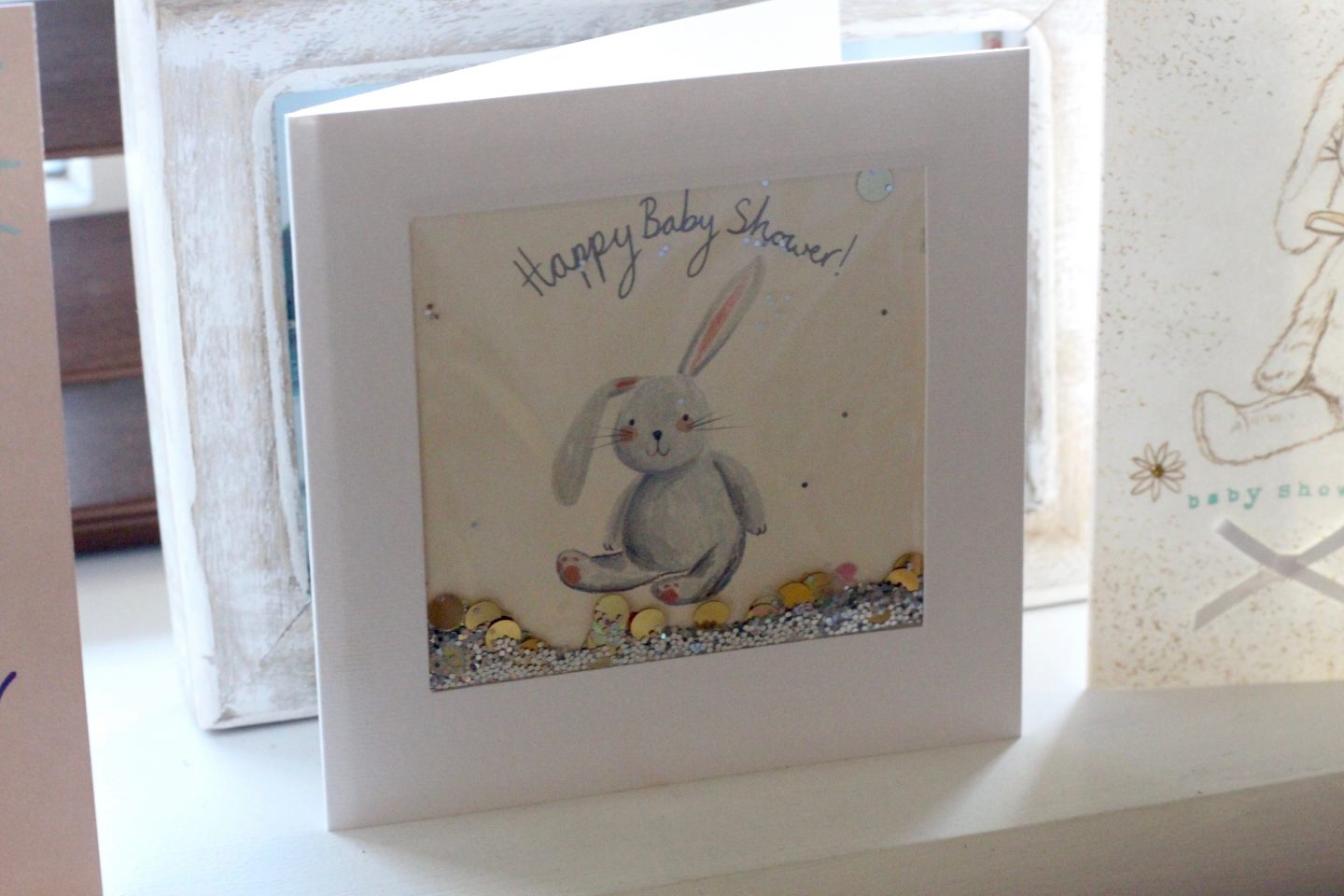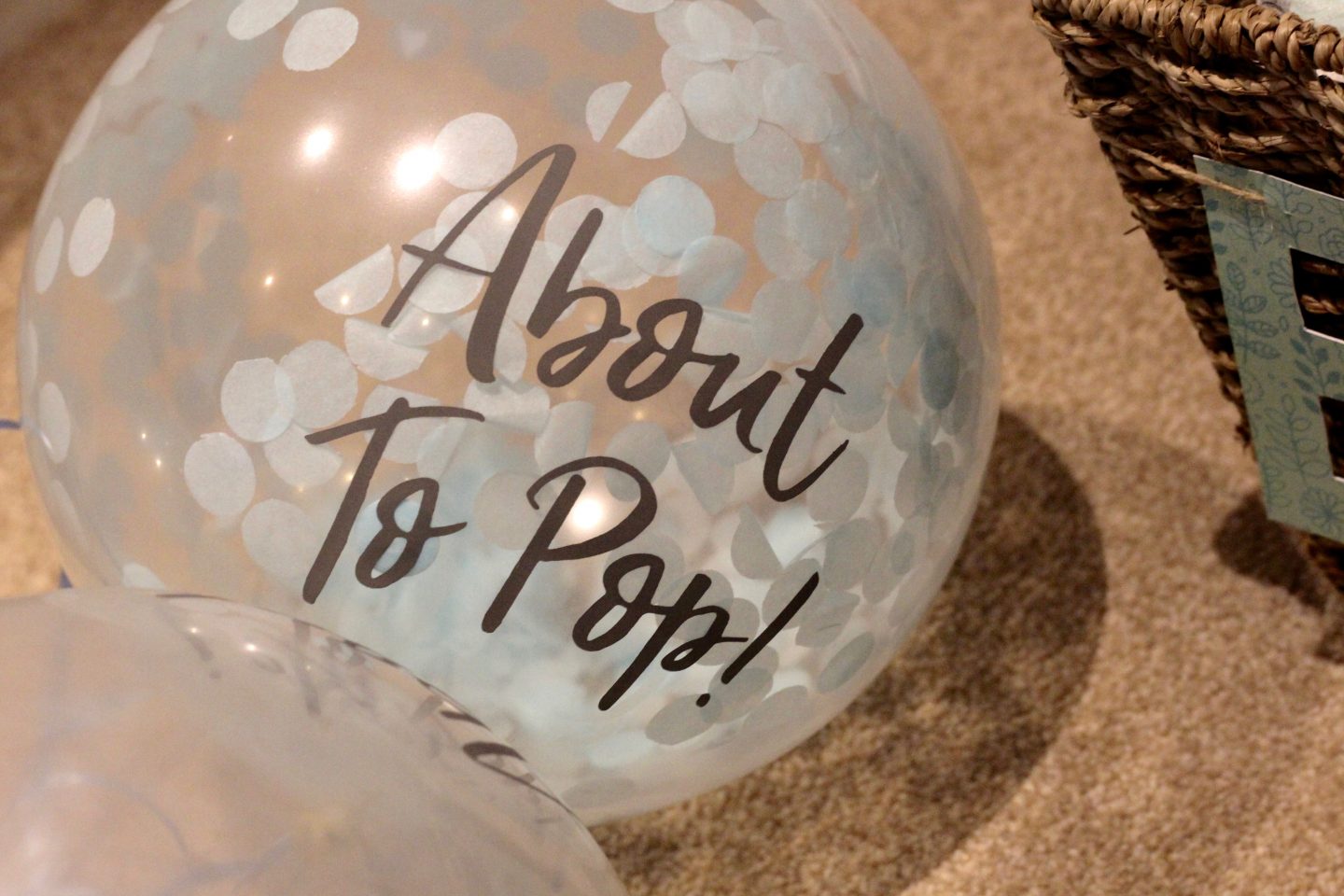 Baby Shower Games
Regarding 'organised fun', which I secretly love (!), we played one main game together which was 'guess the baby food'! We were split into teams of 3 and each team was given a pen and piece of paper along with a packet of baby food with the label covered up. We then had to take it in turns to guess the food (meal) inside and there were 5 pouches in total; my team managed to get 1 out of 5 right.. and the winning team, you guessed it, comprised of 3 already mums!! The winning team was giving a huge bag of celebrations which we of course all shared and demolished pretty promptly. Oh, and one top tip; make sure you tell any vegetarians which of the baby foods contain meat!!
Whilst we were eating, my friends had also arranged a couple of 'games' to go on in the background; my sister asked everyone to write their 'baby predictions' on a baby prediction card (as pictured below!) which involved the girls guessing everything from when the baby was going to be born to how much he was going to weigh and what attributes he was going to get from mum and dad! They also left me a little tip at the bottom which was so nice to read too!
The girls also wrote motivational and funny messages on some of my nappies; for me to read at the mid-morning change; I read a couple of them out in the video above.. my girlfriends are very cheeky 😉
One of the final activities that we did was take pictures using my Instax Mini and Baby Shower Ginger Ray props (as shown below!); I've hung up the pictures in the nursery and they look really good!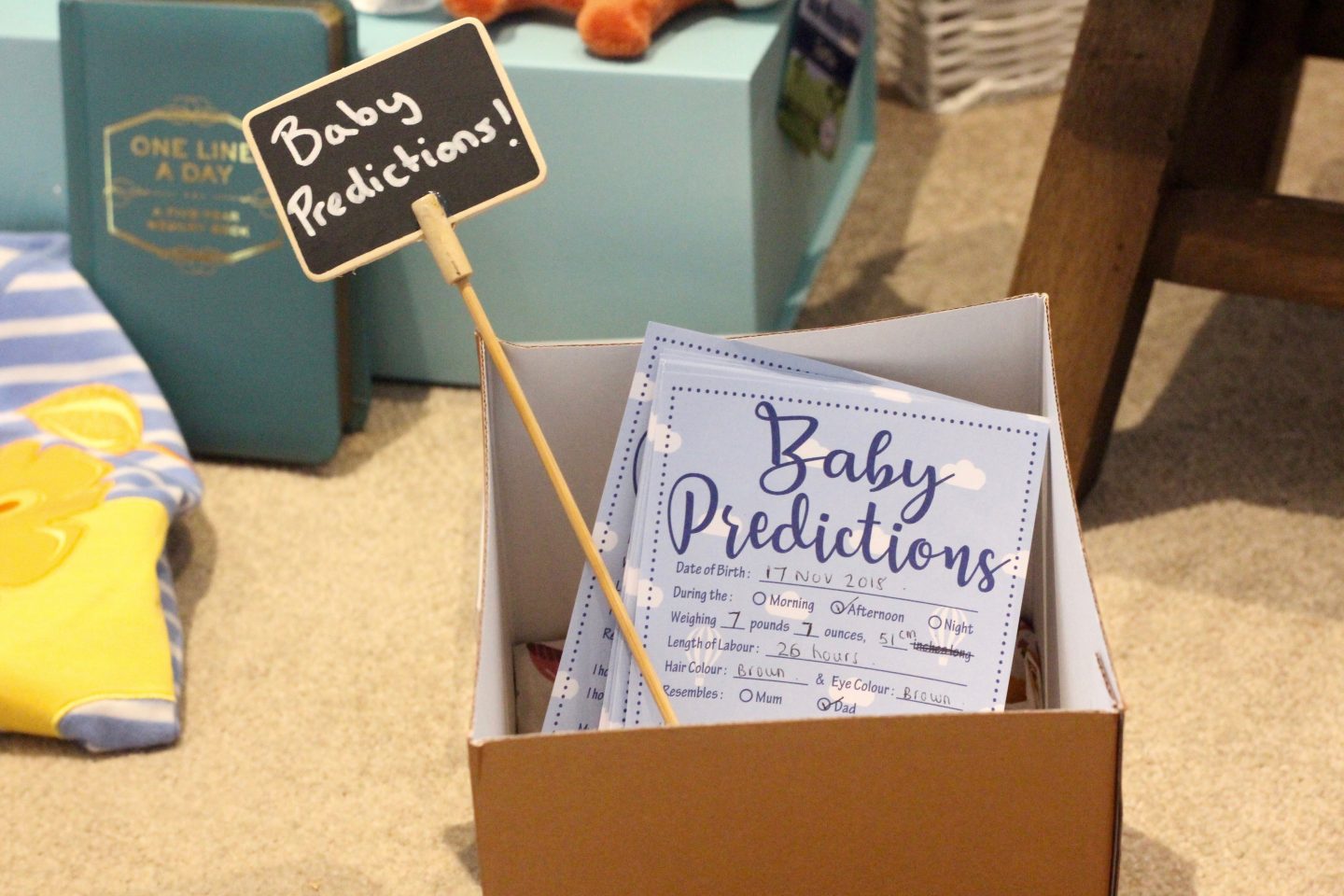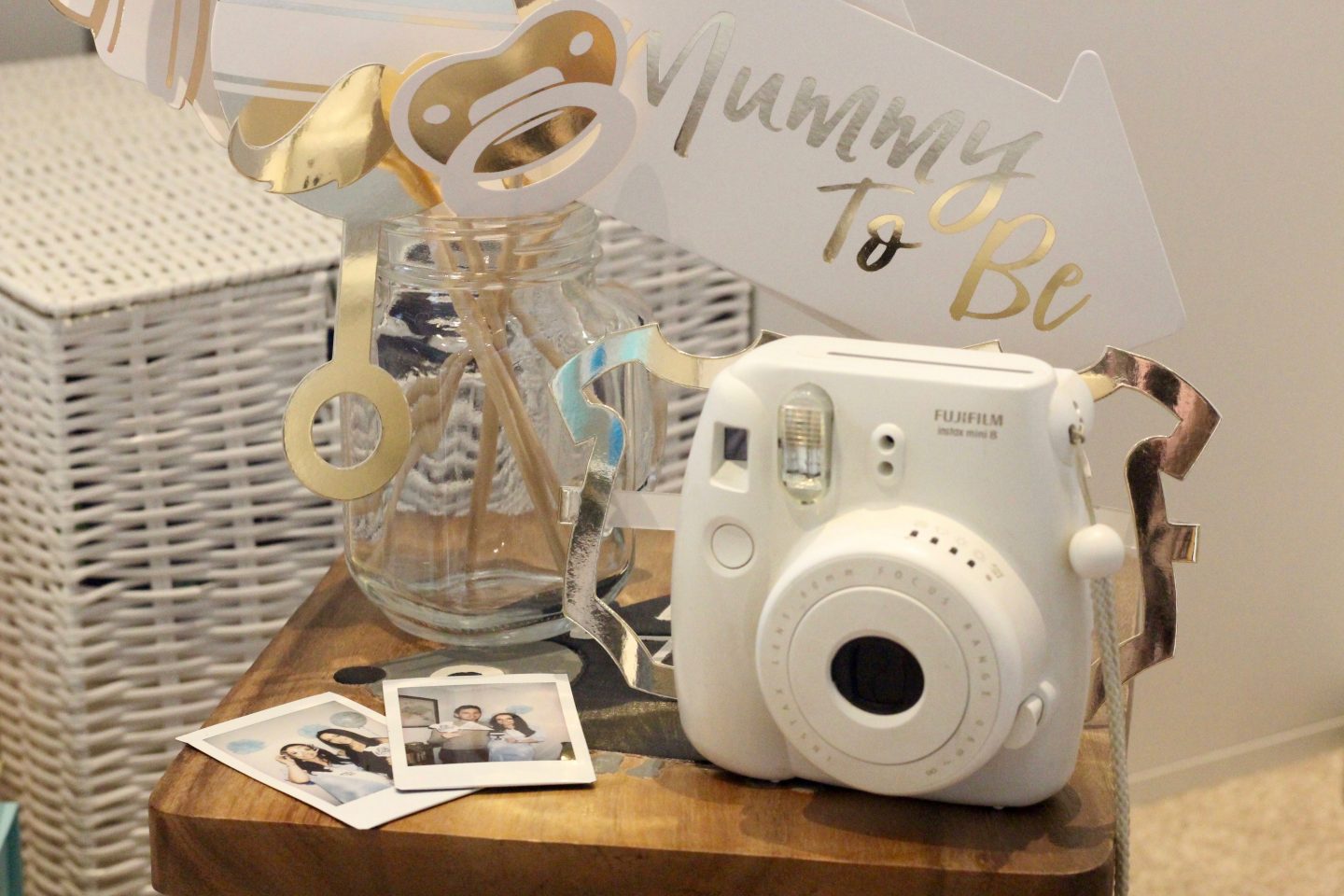 Baby Shower Gift Ideas
As I show and explain in the video above; I was very very spoilt when it came to gifts! My girlfriends went above and beyond so if you are after some quirky gift ideas then here is what I was given:
A Baby Change Essentials Station – As pictured below this whicker basket contains everything that you'll need to change your baby, and get him redressed afterwards too!
Nursery Books – I was given The Owl who was Afraid of the Dark
Books for Mum – I was given Things I Wish I'd Known Book; Women Tell the Truth about Motherhood, a One Line a Day, Five-Year Memory Book and The New Mum's Notebook which I cannot wait to read and start writing in!
Baby's First Print– I cannot wait to take the baby's foot or hand print and hang it up in the nursery!
Baby Trainers – My friend bought my some very cute Baby Adidas trainers!
A Rattle – I got given two gorgeous Fox rattles from JoJo Maman Bebe
Baby Links – I actually bought these Baby Links myself and they are BRILLIANT for attaching books & toys to your pram or car seat (I've attached them to my fox rattles!), as well as making a great simple toy to keep in your bag; they're suitable from birth.
The Baby Duck Company – I've never heard of The Baby Duck Company before but they fill a cute box with unique items tailored for you; I show you what I got in the video and you can see the fox leggings below!
Baby Sleepsuits, Hats & Bibs – I got a wonderful selection of these from newborn to 0-3 months, again from JoJo Maman Bebe
Baby Outfit & Socks – My friend Amy got me such a cute outfit for 3-6 months from Mamas and Papas
Baby Toys – I was given a cute wooden 'pull along' lion for when my baby is 12 months old as well as two cute little bunny rabbit teddies!
Soft Book – I really wanted a sensory soft book and my friend got me The Very Hungry Caterpillar soft book which you can attach to the pram or car seat!
Baby Pram-suit – My sister bought me a lovely water resistance navy pram-suit that has a fur trim on the hood!
Nursing Nightie – My mother in law bought me a nursing nightie for after the birth and I cannot wait to wear it!
Framed Picture & Bath Bomb – Just for me, my friend Amy who is an amazing photographer framed one of my 'bump shoot' pictures in a lovely copper frame!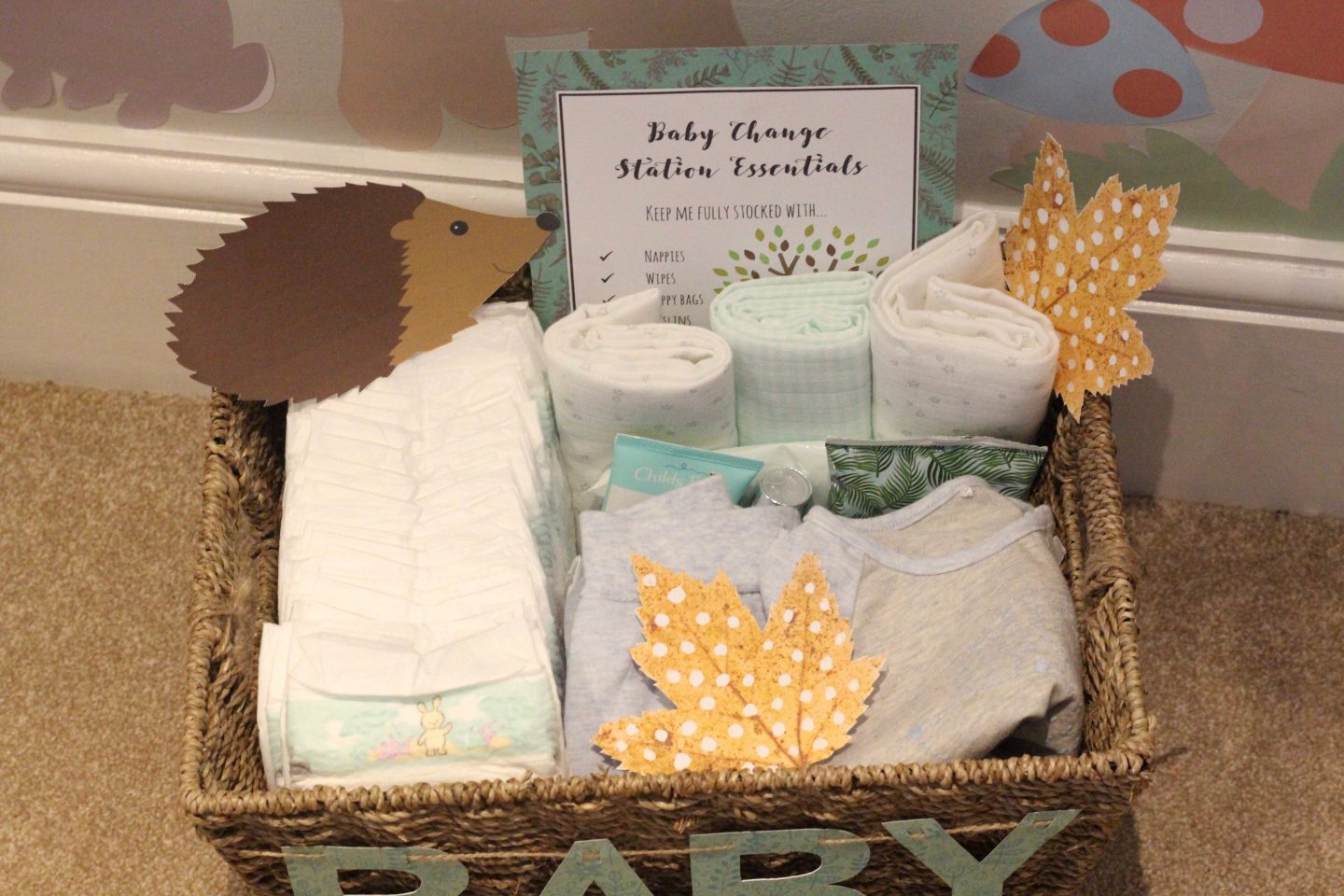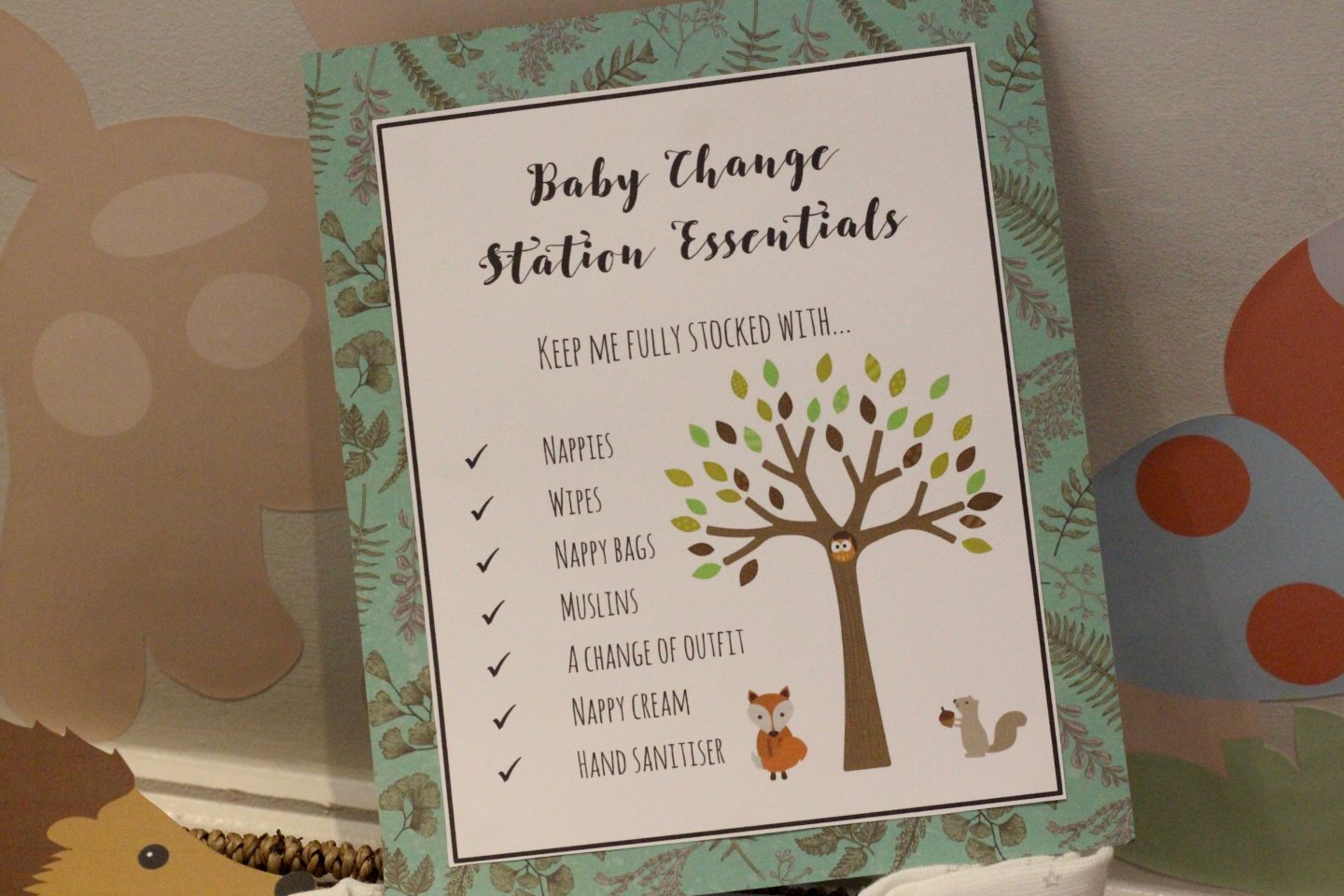 Baby Shower Personalised Gifts
My First Years – My friend Rachel got me a gorgeous personalised baby blue Bunny Rabbit & Personalised Bunny Comforter (pictured below) personalised with our baby's name from My First Years; we haven't kept the baby's name a secret but we also haven't as yet announced it online.. see if you can guess 😉
Hand Made Gifts – My mum gave me a beautifully crocheted cardigan, hat and little boots; she's actually been making me cardigans since we told her that we were expecting!! Hehe!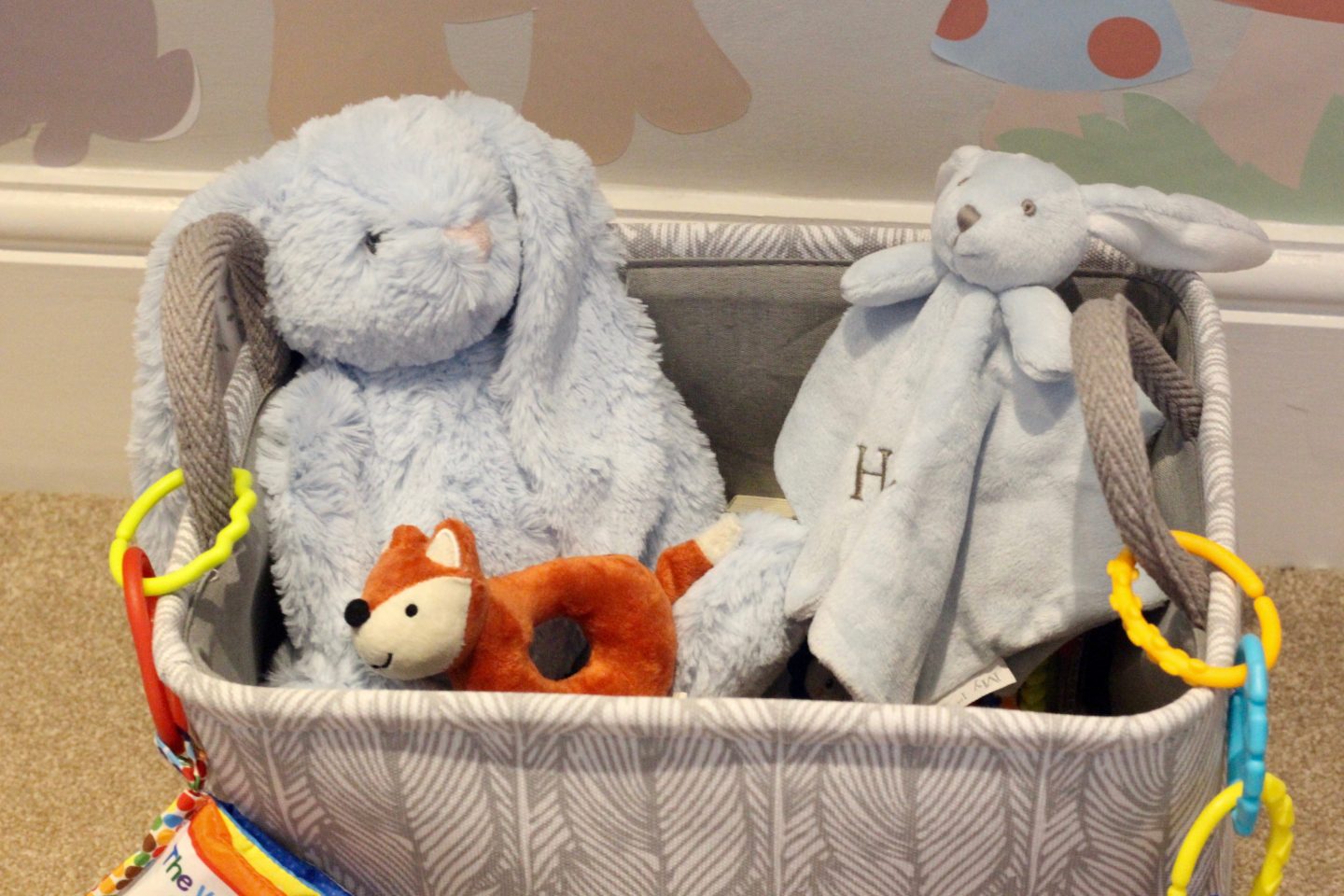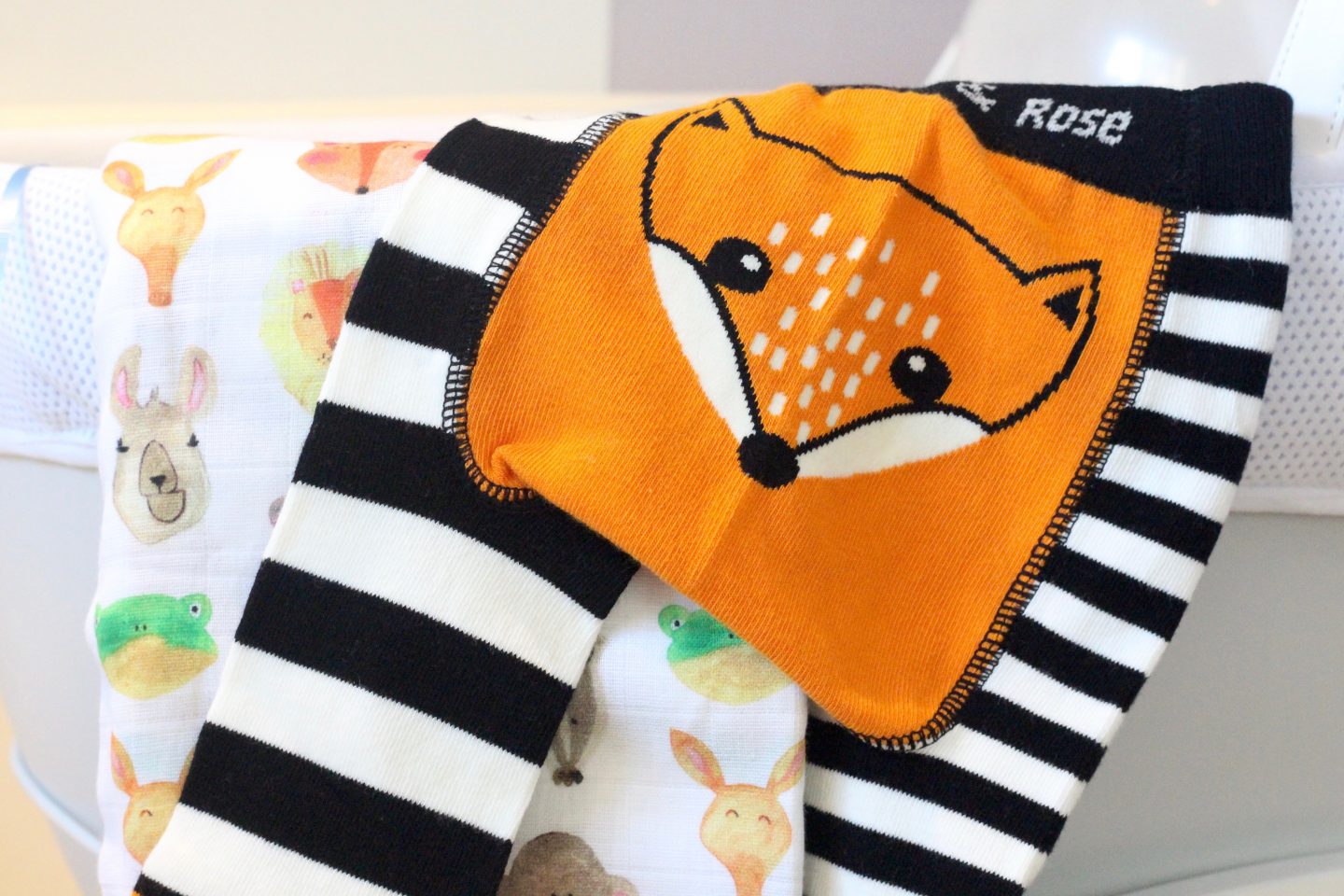 Other Gift Ideas
Sophie the Giraffe – This is on my Christmas wish list for our baby! It's a great sensory toy and teether too.
Baby Sign Language Book – And so is this! Apparently if you teach your baby how to sign it may help them to be less distressed and they can communicate what they need.
Black & White Baby Book – I bought this book when I first found out that I was pregnant as babies can only see in black and white when they are first born. It's a hard book which means that you can stand it up for the baby to look at!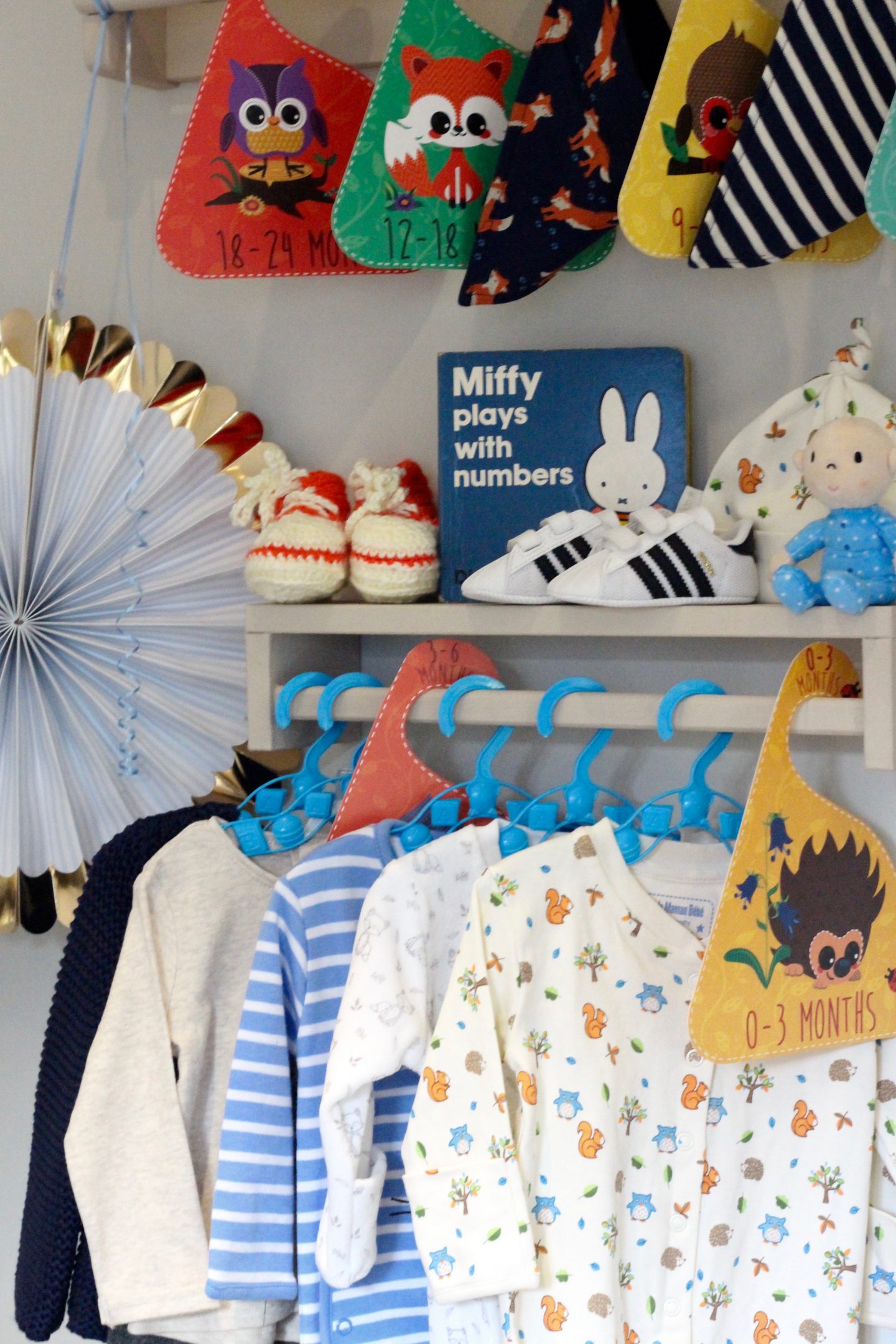 I really hope this blog post gives you some inspiration!
Happy Baby Shower!
Baby Shower Gifts
*This blog post contains affiliate links. Please read my disclaimer page for more information.